It is important to know:
Why do people choose the Clinic of the Ministry of Emergency Situations?
Which steps necessary to do the test?
Addresses for sending samples for research
Dear friends!
For sending samples for researching, please use following addresses:
(Zip code: 192281, Russia, Sankt-Peterburg city, ul. Budapeshtskaya 77-13, for: Petrov Anton Aleksandrovich)
You can use international post and any other services (dhl, pony express, tnt and etc.)
After sending, please inform us and notice tracking number.
You can contact us on following contacts:
info@mineralogram.com (main questions conserning passing test and etc.) (English / Russian language)
Skype: v33elementa (English / Russian language)
Viber, iMessage, WhatsApp and etc.: +79219005633 (English / Russian language)
Sincerely, 33elementa.ru
Option contract for spectral analysis services
Become our partner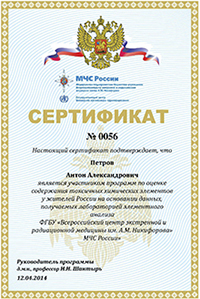 Publications
Is eating with a silver spoon bad for health of children and adults? Myth or real danger to the bodyRead >>
At the present review we do akcent on question: – "Why do patients choose the Clinic of the Ministry of Emergency Situations of Russia? ".Read >>
The concept of the health control as a factor of the awareness of the body-related issues and the proper attitude towards themRead >>